Page 6 - Robeson Living Holiday 2018
P. 6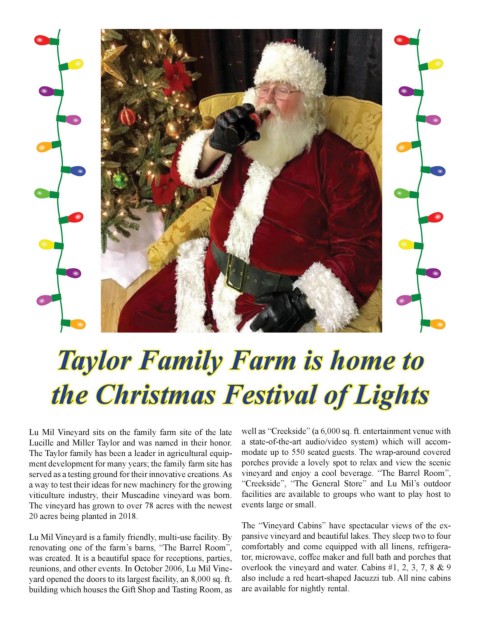 Taylor Family Farm is home to




                the Christmas Festival of Lights






          Lu Mil Vineyard sits on the family farm site of the late  well as "Creekside" (a 6,000 sq. ft. entertainment venue with
          Lucille and Miller Taylor and was named in their honor.  a  state-of-the-art  audio/video  system)  which  will  accom-
          The Taylor family has been a leader in agricultural equip-  modate up to 550 seated guests. The wrap-around covered
          ment development for many years; the family farm site has  porches provide a lovely spot to relax and view the scenic
          served as a testing ground for their innovative creations. As  vineyard and enjoy a cool beverage. "The Barrel Room",
          a way to test their ideas for new machinery for the growing  "Creekside", "The General Store" and Lu Mil's  outdoor
          viticulture industry, their Muscadine vineyard was born.  facilities are available to groups who want to play host to
          The vineyard has grown to over 78 acres with the newest  events large or small.
          20 acres being planted in 2018.
                                                                The "Vineyard Cabins" have spectacular views of the ex-
          Lu Mil Vineyard is a family friendly, multi-use facility. By  pansive vineyard and beautiful lakes. They sleep two to four
          renovating one of the farm's barns, "The Barrel Room",  comfortably and come equipped with all linens, refrigera-
          was created. It is a beautiful space for receptions, parties,  tor, microwave, coffee maker and full bath and porches that
          reunions, and other events. In October 2006, Lu Mil Vine-  overlook the vineyard and water. Cabins #1, 2, 3, 7, 8 & 9
          yard opened the doors to its largest facility, an 8,000 sq. ft.  also include a red heart-shaped Jacuzzi tub. All nine cabins
          building which houses the Gift Shop and Tasting Room, as  are available for nightly rental.